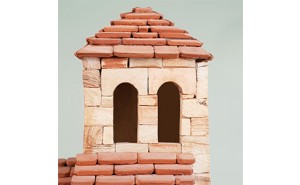 Miniacons miniature arches range is made with best quality clay.
Find here the most suitable ceramic arches for your model.
Arches
Showing 1 - 8 de 8 products
An arch is an architectural element that offers the possibility of opening bays or light hollows on a construction or structure; the range showed through this Miniacons section can be used as a vaults or as stone arches by itself, also to make easier the construction and simulation of smaller arches that can't be formed using voussoirs and keystones. Can be also used as decorative element (as on First Romanesque), as diving element (as it happened with arcades in cloisters) or as functional between a machicolation and its corbels.

If you need a voussoir that you can't find on our website, do not hesitate to contact us.